Retirement Planning
When working with my clients, I like to start with a solid foundation by first suggesting ways of possibly protecting what you have, which means having your basic estate planning documents in place (wills, powers of attorney, living will, medical surrogate, etc.), having beneficiaries on all of your accounts, having appropriate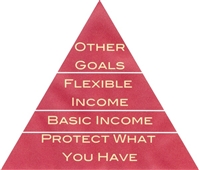 insurance, and having an adequate cash reserve.
Next, I will look at ways of possibly meeting your basic income needs from more reliable income sources such as pension, Social Security and lower volatilty investments, such as fixed or income guaranteed annuities.
Then I will examine possible ways to provide the flexible income you desire for the fun things you would like to do such as travel, by using investments that are appropriate for your risk tolerance.
Finally, I will review your other goals, such as gifting strategies or to leave an inheritace, using investments or other products that are appropriate to your situation.
The main goal is to, as much as possible, make certain that you have adequate protection and will be able to meet your basic income needs with a degree of confidence that makes you feel comfortable with your retirement income plan.